Welcome to the home page for Field II! Here you will find all the information about the program along with executables and examples that you can download.
---
Summer school on CMUT transducers and Field II at DTU
May 22 to May 28 2014
MUT 2014 Summer School from May 22 to May 28 2014
Link: www.mut.dtu.dk/About-MUT/Summerschool
Deadline for application is March 25, 2014.
As a satellite event to the MUT workshop, DTU Nanotech and Center for Fast Ultrasound will arrange a summer school from 22.05.2014 to 28.05.2014.
The topics include medical ultrasound imaging and transducer theory and the students will get practical experience in using the Field II program for simulation of ultrasound transducer fields and ultrasound imaging and try fabricating CMUTs in a cleanroom.
The summer school emphasizes hands-on and the students will work in teams on transducer design, simulation, fabrication and characterization. The participants will receive a certificate of participation and at the end of the summer school there is a mini-conference where all teams present their findings.
---
The aim of the summer school is to connect PhD students around the world and we are looking forward to seeing YOU!
Deadline for application is March 25, 2014.
---
You can now follow Field II on LinkedIn and post comments and discussions. You can freely join the group named:

Field II Ultrasound Simulation Program, where news about new version of Field II will be posted.
Field II is a program for simulating ultrasound tranducer fields and ultrasound imaging using linear acoustics. The programs uses the Tupholme-Stepanishen method for calculating pulsed ultrasound fields. The program is capable of calculating the emitted and pulse-echo fields for both the pulsed and continuous wave case for a large number of different transducers. Also any kind of linear imaging can be simulated as well as realistic images of human tissue. The program is running under Matlab on a number of different operating system (Windows, Linux, Mac OS X), and the programs are currently free to use under certain restrictions (see copyright).
The latest release of the program is version 3.22 of October 27, 2013. Note that this code will work with Matlab 8.10 under Linux, Mac and Windows in 64 bits versions.
Note that for the Windows 64 bits version you have to have the Microsoft Visual Studio 2012 run-time libraries for this version to work. This you can either get by installing the compiler and using mex -setup or download the Microsoft Visual Studio 2012 run-time libraries from the link: http://www.microsoft.com/en-us/download/details.aspx?id=30679
I am currently working on a faster version of Field II. It will soon be released as a commercial multi-threaded version for both Matlab, Octave and standalone C. Please see more under Field IIpro.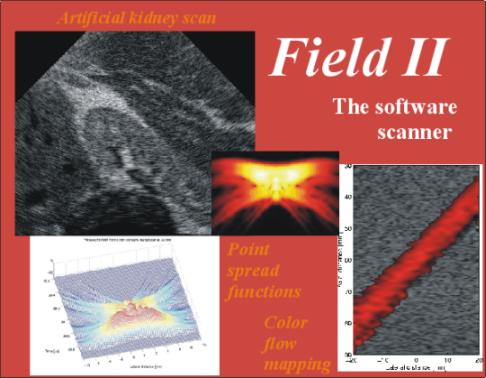 The latest News is from October 27, 2013 about version 3.22 of Field II.
---
Why a new web-site? The University have decided to close down the Linux server running this site in May 2012, and I had to find an alternative. I was also increasingly getting tired of having yet another web-addres that people should search to find. I have therefore decided to privately host this web-address, and I hope to keep it alive as long as there is any interest in Field II, which I hope will be for a very long time. If you have any comments or suggestions you can contact me at j.arendt.jensen@gmail.com.
Sincerely
Jørgen Arendt Jensen